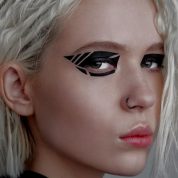 Eye makeup is a canvas for artistic expression, and you can create countless creative looks to showcase your individuality and style. From bold eyeshadow colors to graphic liners and artistic lash designs, here are step-by-step tutorials and product recommendations for each eye makeup style:
Bold Eyeshadow Colors
Apply an eyeshadow primer to ensure your eyeshadow stays vibrant and crease-free all day.
Choose a bold eyeshadow color that complements your eye shape and skin tone. Some options include vibrant blues, purples, greens, or metallic shades.
Use a dense eyeshadow brush to pack the color onto your eyelids, starting from the inner corner and working your way out.
Blend the edges of the eyeshadow with a clean blending brush to create a seamless transition.
Apply a slightly darker shade to the outer corner of the eye and blend it into the crease for depth.
Finish the look with several coats of volumizing mascara to make your eyes pop.
Product Recommendations
Urban Decay Primer Potion or Too Faced Shadow Insurance (Eyeshadow Primer)
Anastasia Beverly Hills Norvina Pro Pigment Palette Vol. 4 (Bold Eyeshadow Colors)
MAC 217S Blending Brush (Blending)
Benefit They're Real! Mascara (Volumizing Mascara)

Graphic Liners
Create a winged eyeliner shape using black or colored liquid or gel eyeliner.
Extend the wing as far as you desire, creating a bold and dramatic shape.
Once you've created the basic shape, add additional details such as dots, lines, or geometric shapes to enhance the graphic look.
Use a cotton swab or small brush dipped in makeup remover to clean up any mistakes and sharpen the edges.
Apply mascara to your upper and lower lashes to complete the look.
Product Recommendations
Stila Stay All Day Waterproof Liquid Eyeliner (Liquid Eyeliner)
Inglot AMC Gel Eyeliner (Gel Eyeliner)
NYX Professional Makeup Retractable Eyeliner (Colored Eyeliner)
Urban Decay Perversion Mascara (Mascara)
Artistic Lash Designs
Apply a coat of mascara to your natural lashes to create a base for the artistic lash design.
Choose false lashes that have unique designs, such as feathered lashes, colored lashes, or lashes with rhinestone accents.
Apply a thin layer of lash adhesive to the band of the false lashes.
Carefully place the false lashes as close to your natural lash line as possible.
Use a small brush and lash glue to add additional accents, such as rhinestones or small jewels, to the outer corners of your eyes.
Allow the glue to dry completely before blinking or closing your eyes.
Product Recommendations
Huda Beauty Classic False Lashes (Artistic False Lashes)
Duo Eyelash Adhesive (Lash Glue)
Ardell LashGrip Strip Lash Adhesive (Lash Glue)
Ardell Duralash Individual Lashes (Individual Lash Accents)
Remember, creative eye makeup is all about experimentation and having fun. Feel free to mix and match different styles and products to create unique and captivating looks that showcase your artistic flair and creativity. Happy experimenting!